Our Mission
Friends of the Tonto National Forest is a group of volunteers who assist the Forest in its critical mission of natural and cultural resource and visitor use management. We promote public understanding of the Tonto National Forest's policies, programs and projects.
---
AVAILABLE now! Butterfly and Wildflower Field ID Book
"Wildflowers, Butterflies and More" by local author Marianne Skov Jensen.
The author donated a limited number of this beautiful and informative field guide to Friends of the Tonto. 
Marianne Jensen moved to Arizona in 1995. She was struck by the diversity and beauty of the Sonoran desert.  Seeing the need for a small-sized field guide to local flora, she embarked on creating a new guide.  This little book contains hundreds of photos of flowers that can be found in the McDowell Sonoran Preserve. The flower photos are paired with photos of butterflies that frequent them.  
Proceeds from sales of her book will go toward the Friends of the Tonto's Milkweed for Monarchs program. The program focuses on monarch butterfly habitat restoration and monitoring, and public education about this remarkable animal.
Cost: $20 + shipping and handling
---
Friends received the Citizen Stewardship and Partnership Award!
Friends of the Tonto recently received an award from the Southwestern Regional Office of the Forest Service, from their 2019 Regional Volunteer and Service Awards Program. The letter from Acting Regional Forester Sandra Watts stated: "Each year, exceptional dedication and service is recognized through the National Volunteer and Service Awards program for exemplary achievements to sustain the health, diversity, and productivity of the nation's forest and grasslands by the invaluable contributions made by volunteers, partners, and employees supporting our core mission of 'Caring for the Land and Serving People.' These efforts truly embody the spirit of working together to preserve the legacy of public lands through passion, dedication, generosity, and hard work."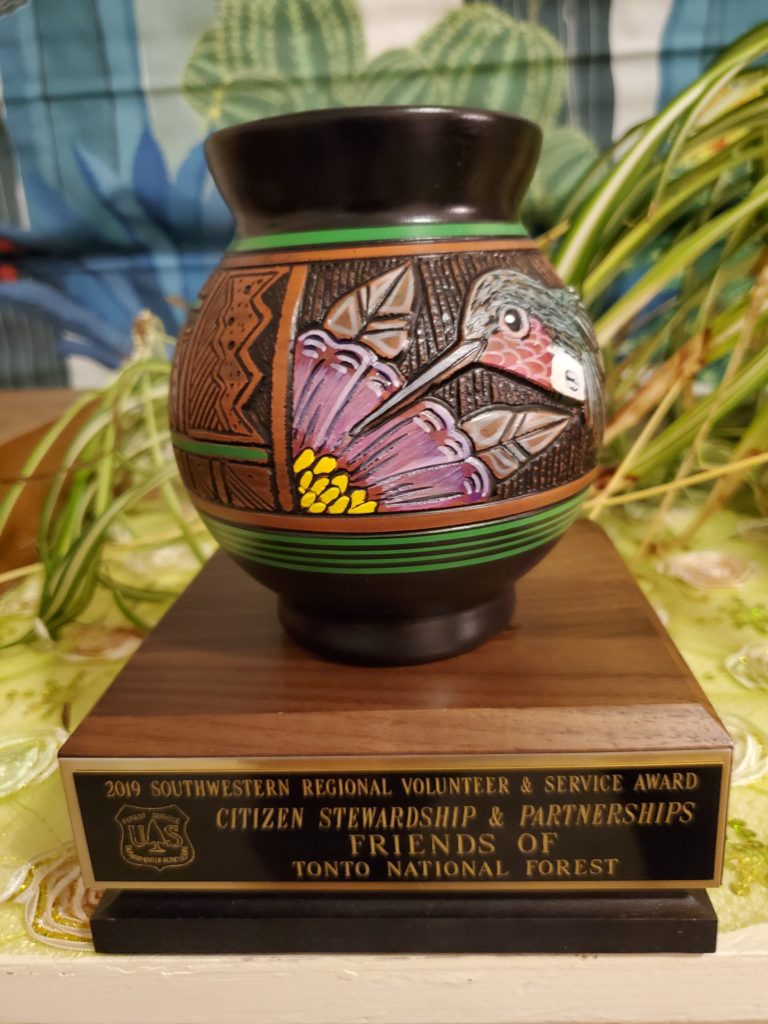 FOTNF received the award because "Friends of the Tonto National Forest has been partnering with the forest for over 10 years and has performed invaluable invasive removal, resource monitoring, and volunteer boots on the ground. Friends of the Tonto NF has also done an exceptional job of hosting educational events, posting on social media, attending public outreach events, applying for grants, and providing other capacity support that our Forest needs. They are full of expertise and have been a reliable source for specialty work such as cultural resource protection, restoration efforts, and rare plant monitoring."
---
Help Water the Milkweed for Monarchs
This project is part of a multi-year program to create monarch butterfly habitat on the Tonto National Forest. It supports nationwide efforts. Milkweed is the required diet for monarch larvae – read about the monarch's incredible life cycle at here.
Friends' volunteers will be watering the milkweed through the summer. We welcome everyone's help. Watering is a critical part of success of this project!
---
Meet Ann Adkins, Board member
Ann's love of the desert developed almost instantly. In 2002, Ann first came to visit Arizona from her home state of Iowa. After only three days, she purchased a home in Apache Junction. Horses and the outdoors have always been a focus of Ann's life. As a result she volunteers with the Forest Service through their Horse Trail Ambassador program. During Ann's career, she worked in veterinary medicine, doing every job that was needed with animals, and as an ambulance Emergency Medical Technician.
---
Upcoming Events
---
Volunteer on the Tonto National Forest
Become a Member
The best way to support Friends of the Tonto National Forest is to become a member.
Donate
Learn more about all the ways you can donate to Friends of the Tonto National Forest!