Register for Superstition Mountains projects including non-native removal and mapping training.
How the Desert is Changing
Historically, the Sonoran Desert portion of the Tonto NF was considered a low fire risk environment. Lightning and other natural causes could ignite a fire. However, the natural spacing of the native plants generally carried only low intensity fires and not for much distance. Most plants native to the Sonoran Desert, including the iconic Saguaro, are not fire adapted. Not fire adapted means that they do not recover from the effects of a fire.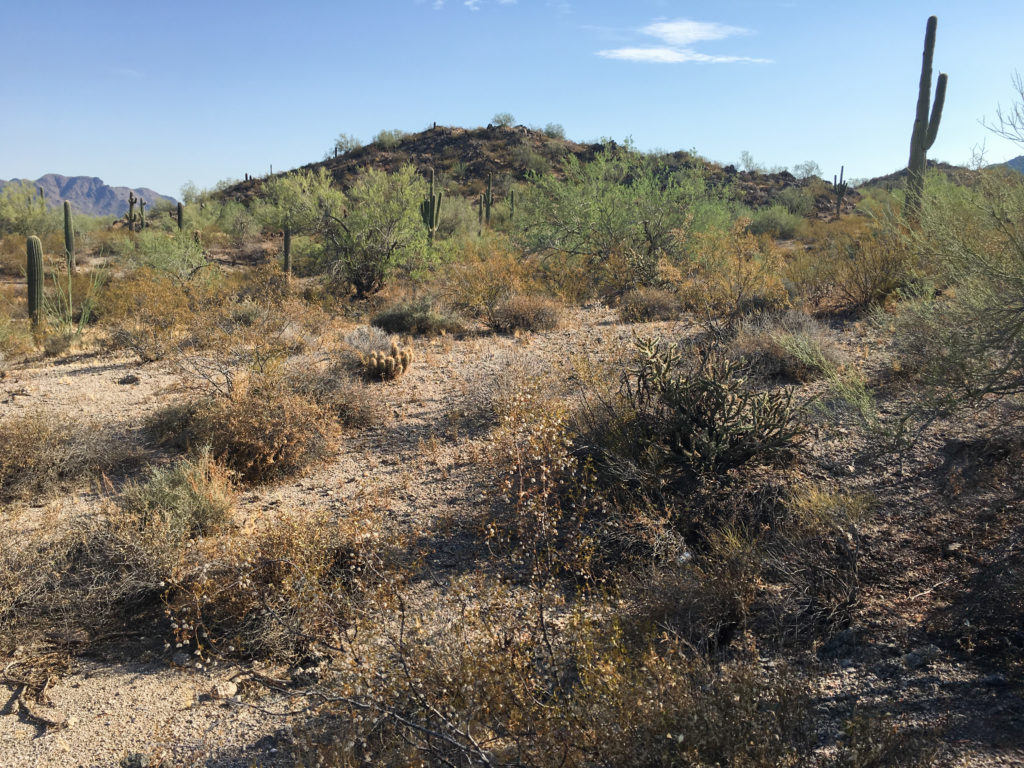 The huge and numerous forest fires during 2019, 2020 and 2021 are tragic examples of how the desert is changing.
Wet Winter/Springs Seasons in 2019 and 2020 encouraged plant growth. As a consequence, non-native plants provided the fuels to carry the fires over hundreds of thousands of acres. Saltcedar, brome grasses, sahara mustard, fountain grass and now buffelgrass and other non-native plants are rapidly expanding in the Tonto. These non-native plants out-compete the native plants and provide extra fuel for fires.
You Can Help!
Join Friends of the Tonto as we work with Tonto NF and neighboring communities to educate the public, identify and map the non-native infestations, and remove the threat where possible.
First, to participate in any Superstition Mountains event, sign a Superstition Mountains Liability Waiver form. After you sign the liability waiver, it is valid for the season. Second, it is important that you become familiar with the safety requirements which can be seen here Safety Analysis.
Removal Events
Events are planned for every 2nd and 4th Saturday. We meet at different times and locations as shown in the event registration form. You can easily complete the required registration for each of the removal events at Removal Event Registration. Additional dates will be added to the registration form as soon as the locations are determined.
Mapping and Monitoring
Mapping and monitoring is a great way for you to get outside and explore on your own schedule. With the addition of the Superstition Fire area, we are asking for more volunteers to participate in this ongoing activity. We'll use ArcGIS Field Maps which is a free app for your smart device. There are 4 species of non-native plants we'll be monitoring — fountain grass, buffelgrass, stinknet and sahara mustard. Depending on the time of year, they are quite easy to learn to recognize. Since the plants are seasonal, there will be an opportunity and need to cover the same territory multiple times.
You may attend either of the Field Map Training Sessions on Wednesday, September 29 or Saturday, October 2. Both sessions will meet at the Bush TH entrance to the Hawes Trail System at 8 AM. Bring your smart device with ArcGIS Field Maps and a Map Area already downloaded. You can view YouTube videos showing how to download ArcGIS Field Maps and the NNP Survey with Burn Area map. Email don@friendsofthetonto.org for the map password and to let him know which day that you plan to attend.